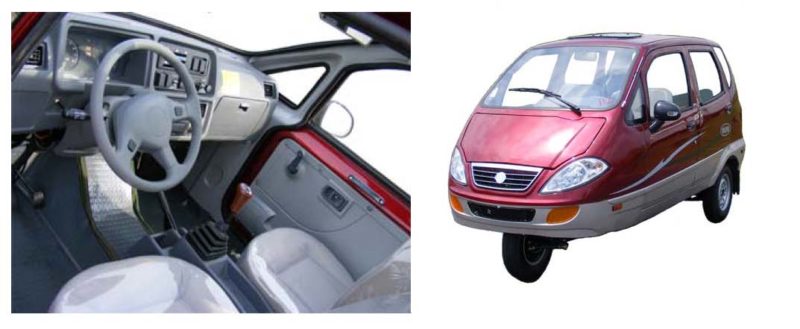 August 2, 2008
Reprinted from The Safety Record, V5, I4, July / August 2008
STUEBENVILLE, OHIO -Don't bother trying to buy a three-wheeled, two-passenger vehicle off the dealer's lot. Motorists who want to get their hands on Wildfire Motors' WF650-C will have to plunk down the full $7,064 purchase price in advance, and wait three months for delivery. As gas prices rise, consumers are turning to high-mileage alternative vehicles, such as three-wheeled motorcycles or mini trucks or small electric passenger vehicles in increasing numbers. They are marketed as "cars" or "trucks" with most of the capabilities of a passenger vehicle, but they are built to safety standards far below those required of traditional passenger cars and light trucks.
The National Highway Traffic Safety Administration says that it is watching the trend closely, but it has yet to promulgate regulations, conduct crash testing or enforce existing regulations on importers who certify a vehicle in one class, but market it to consumers as a different class of vehicle.
"We are certainly aware of the phenomenon," says NHTSA spokesman Rae Tyson. But he declined to elaborate on the agency's plans to initiate rulemaking. The agency has begun to collect some state crash data involving these vehicles. NHTSA has also looked at crash tests performed by Transport Canada and has plans to conduct some vehicle testing of its own, Tyson said.
States have actually permitted this expansion by passing laws allowing some of these vehicles on public roads and at higher speeds than the FMVSS allows. An article in the Insurance Institute for Highway Safety Status Report noted that gasoline-powered mini-trucks, with bench seating, a steering wheel, flat beds and a fully enclosed passenger compartment, had escaped NHTSA regulations because they were billed as off-road vehicles. They are confined to top speeds of up to 25 miles per hour, but can be easily modified to reach much higher speeds. In the last two years, as many as 10 states have passed laws allowing mini-trucks to traverse portions of the public roads – usually interstate highways are exempted. Four states have required that these vehicles comply with NHTSA's safety standards for low-speed vehicles – but one such state, Kansas, places no speed restrictions on the vehicles.
Yet, as Tyson concedes, the states play no role in setting motor vehicle safety standards – they are solely within the federal government's purview. And he refused to disclose any plans the agency might have to crack down on the importers who are clearly selling these vehicles as having on-road capabilities, or on states which have passed laws in direct contradiction to federal regulations.
Consumers may be unaware that they are built to minimal safety standards or to regulations that don't apply to the new dynamics and architecture of these hybrids. In the meantime, advocates have identified this clash between these alternative vehicles, their marketing, the federal regulations and state laws as a looming safety issue.
Wildfire's top-of-the-line three-wheeled vehicle is a case in point. Wildfire Motors, based in Steubenville, Ohio, boasts the U.S.'s largest inventory of alternative vehicles. According to a sales representative, three-wheelers "got real popular, real fast." Demand for the three wheeled vehicles had risen so far, so fast – by 400 percent – he said, that the distributor changed its policy of selling individual vehicles to dealers, and now requires them to buy whole containers of the product.
The WF650-C boasts a 650cc Hi-Po liquid cooled engine, with a four speed manual transmission with reverse. "With up to 60 miles per gallon fuel efficiency and a cruising speed of 65, this is a great vehicle to beat high gas prices. Also comes with a CDI ignition, and a 2 year or 24,000 mile warranty on the engine and transmission," Wildfire's website maintains.
WF650-C three-wheeled "motorcycle" manufactured by Taixing Sandi Motorcycle Co Ltd, sold by Wildfire Motors
The WF650-C also has a radio, a rear convertible seat and a sun-roof. Sounds just like a car – except that it's a motorcycle. According to the vehicle's owner's manual it is certified as a three-wheeled motorcycle and drivers must obtain a motorcycle license to drive it. The WF650-C is manufactured in China by the Taixing Sandi Motorcycle Co Ltd to Wildfire's engineering standards, the sales representative said.
But the manual also carries these unusual caveats for a motorcycle:
Riders must comply with local allowable age rules, all local laws and regulations. Minors should never operate this product without the supervision of an adult. DO NOT operate under the influence of alcohol or while receiving medical treatment. DO NOT ride this product without protective equipment, such as helmets, gloves, long pants, long sleeve shirt and any other protection that local regulations or laws require. Read the instructions carefully and always inspect this product until you can safely start, stop, turn, and yield to all obstacles in the environment. This product is not intended for use on public roads or highways, during nighttime or inclement weather conditions. Never ride on any street or sidewalk.
The manufacturer's disclaimers aside, NHTSA defines the term "motorcycle," for the purpose of the statute and regulations it administers, as "a motor vehicle with motive power having a seat or saddle for the use of the rider and designed to travel on not more than three wheels in contact with ground. If a motorcycle or motor driven cycle is capable of a top speed above 20 miles per hour and is equipped with components (such as lights, mirrors, and turn signals) that are needed for on-road use, NHTSA will regard it as having been primarily manufactured for such purposes."
The federal motor vehicle safety standards governing motorcycles were first promulgated in the early 1970s. They mostly concern themselves with the safety of the brake system, headlights and rear lights, tires, windshields and turn signals. In March 1971, NHTSA began establishing a brake standard for motorcycles, separate from the safety standard for passenger vehicles, FMVSS 105, and published a final rule, which specifically addressed three-wheeled motorcycles in 1972. Since then, there have been minor adjustments to the motorcycle brake regulations. These regulations never considered a "motorcycle" with an upper vehicle architecture – pillars and a roof – a cab in the back, as the pick-up models feature, or side-by-side seating for two. The agency has never examined the crashworthiness, the radically changed vehicle dynamics, or the rollover propensity of these vehicles.
Wildfire's Total Electric Vehicles are another example of a vehicle marketed in direct contradiction to its stated use. The fully equipped WF-120V Total Electric NEV (Neighborhood Electric Vehicle) retails at $15, 325. (A base-model 2009 Honda Civic retails for $15,400.) This vehicle is also manufactured in China by a motorcycle manufacturer, the Chongqing Hi-Bird Motorcycle Industry Co. According to the Wildfire website:
The WF-120V Total Electric Car has a 8.5 kilowatt, 120 volt, AC motor which runs on 10 105Amp Power Deep Cycle batteries. The 120 volt AC motor uses very little electricity and is completely computer controlled. The WF-120V is a NEV or Neighborhood Electric Vehicle and the top speed is set at 25 mph, but can be adjusted for higher speed [up to 50 mph] if that is legal for NEV vehicles in your state or country. Check with your local DMV. The WF-120V also comes with two tone leather seats, inside adjustable mirrors, AM/FM CD player, power windows and mag wheels.
NEVs are regulated by FMVSS 500 under a 1998 final rule, which was promulgated to address electric golf carts. FMVSS 500 requires that NEVs be equipped with headlamps, stop lamps, turn signal lamps, tail lamps, reflex reflectors, parking brakes, rear view mirrors, windshields, seat belts, and vehicle identification numbers. NEVs are defined as "Low Speed Vehicles" and, according to FMVSS 500, NEVs have four wheels, have less than a 2,500 GVWR and can attain top speeds between 20 and 25 miles per hour. No crash testing is required for these vehicles.
But, again, states have expanded their use – about 35 have passed legislation or regulations allowing NEVs to be licensed and driven on roads that generally are posted at up to 35 miles per hour, without consideration to the safety of occupants in crashes at these higher speeds.
Consumers eager to save on fuel are being persuaded by marketing pitches that encourage them to view these alternatives as full-service economy models. States are paving the way with laws that allow their operation ahead – sometimes way ahead – of their mechanical capabilities. When will NHTSA stop merely monitoring this fuel-for-occupant protection trade and take action? The agency has no comment.
WF-120V Total Electric Car
Copyright @ Safety Research & Strategies, 2008