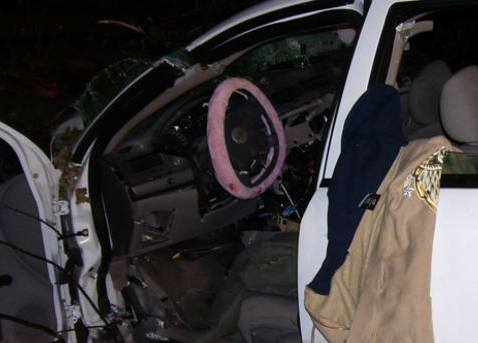 May 11, 2020
Brooke Melton died on her 29th birthday. It was the evening of March 10, 2010, and Melton, a pediatric nurse, had just finished work and was headed to meet up with her boyfriend for a celebration dinner, when the ignition module of her 2005 Cobalt slipped into the accessory position as she drove along Highway 92 in Paulding County, Ga. Melton's Cobalt lost all power and skidded into another vehicle. She died of her injuries. The roads were wet from rain earlier that day, and the police attributed the crash to Melton driving too fast for the conditions.
The conclusions of the official report hardly closed the book for Melton's parents. Her father, Ken, was particularly troubled. Just days before the fatal crash, she told him that her engine had inexplicably shut off while she was driving. A few weeks after the crash, GM sent Melton a recall notice for a power steering defect that could result in greater steering effort and, possibly, a crash. It would be a year before Ken and Beth Melton took their suspicions to Marietta lawyer Lance Cooper. Lawyers for the occupants of the other car were asking questions about Brooke's 2005 Cobalt, and the insurance adjuster was scheduling an inspection – the Meltons needed their own representation. Would Cooper consider it?
The timing was inauspicious. Cooper's firm had just returned to financial health after losing three large expensive auto liability cases that had mired his practice in debt. So, with some trepidation, and a hunch that something was amiss, Cooper, a seasoned litigator who had earned a reputation for his quiet but vigorous and successful advocacy pursing cases for victims of vehicle and tire defects, took the on what would become the most important case of his career.
Every lawyer has a few good war stories, but few have one with as much impact as Cooper's battle against GM for installing a defective ignition switch in millions of its models and hiding that fact for a decade. In telling his own story in clear, unadorned prose, Cooper comes across as a deeply decent man whose work is guided as much by his religious faith as by his decades of experience going toe-to-toe with global behemoths.
Officially, at least 124 people died and 257 were injured in crashes caused by the low-torque ignition switch, which could slip from the run position to "accessory," cutting off all power and disabling the airbags and all of the advanced safety systems. GM eventually recalled 30 million vehicles worldwide and paid out $2.5 billion in compensation and fines. GM executives and NHTSA officials were dragged up to Capitol Hill to explain themselves to an angry Congress.
Cobalt Cover- Up charts the twisted five-year path to justice, from the questions Brooke's grieving parents first raised to Cooper in February 2011 to the whimpering end of the multi-district litigation's effort in 2016 to hold GM accountable. Along the way, Cooper introduces the reader to himself and to those who provided key assists such as the late forensic mechanic Charlie Miller, who discovered a GM Technical Service Bulletin on the defect; engineering expert Mark Hood, who found that GM had changed a key switch part; and his uber-paralegal Doreen Lundrigan, who extracted valuable notice admissions out of GM's paper blizzard.
Full Disclosure: Safety Research & Strategies consulted with Cooper on the Melton case, and SRS President and Founder Sean Kane appears in the narrative a few times. At one juncture, Kane gives Cooper critical evidence to challenge GM's claims that it knew of no deaths or injuries associated with the ignition defect.
"I've known Cooper professionally and personally for decades," Kane says. "This book –without any hyperbole – accurately portrays him as the skilled lawyer and the trustworthy and grounded person I know him to be."
In hindsight, the switch ignition defect had been hiding in plain sight. Even as the first vehicles with defective ignition switches hit the showrooms, automotive reviewers had taken notice of the vehicles' inexplicable propensity for sudden shut-offs. In 2005 and 2006, GM issued Technical Service Bulletins alerting its technicians to the defect of "Inadvertent Turning of the Key Cylinder, Loss of Electrical System and no DTCs." NHTSA launched three separate Special Crash Investigations (SCI) in 2006 and 2007, all based on non-deployment of the airbag in a severe frontal crash. In each, the investigators found the ignition in the accessory position. In April 2007, the Indiana University Transportation Research Center's Special Crash Investigation on an October 2006 Wisconsin fatal crash put the two together – noting the accessory position and linking it to the October 2006 TSB.
But NHTSA had focused solely on airbag non-deployments. And Cooper's first working theory was that the power steering might be to blame. As Cobalt Cover-Up recounts, eliminating the power steering as a root cause, examining exemplars, following the clues, and pushing past GM's attempts to obfuscate and mis-direct, took the right combination of perseverance and expertise.
The story has its villains. General Motors, of course: Five months after the Meltons reached a confidential settlement, GM issued an ignition switch recall but limited it to a fraction of the affected vehicles. GM's announcement to NHTSA mentioned no deaths, nor the fact that it had known of the problem for years. Once again, Cooper forced GM to disclose the full extent of the problem to NTHSA – and to ensure that NHTSA took it seriously, he notified the press.
Once the debacle broke into full public view, it became GM's mission to place all the blame for its failures on the shoulders of switch engineer Raymond DeGiorgio – casting him as a rogue employee who managed to place a sub-standard switch in millions of GM vehicles without anyone's knowledge, and years later, switch it out with a different part, again unbeknownst to any of the automaker's numerous managers and supervisors. And, as Cooper writes, they largely succeeded. GM's "independent" investigation by attorney Anton Valukas pinned the fiasco on DeGiorgio, garnering headlines in the popular and trade press such as Forbes "How one rogue employee can upend a whole company," or The New York Times' "A Fatally Flawed Switch, and a Burdened G.M. Engineer," or Automotive News' "How Ray DeGiorgio threw GM investigators off track for years."
But Cobalt Cover-Up identifies many more who enabled the defect to go uncorrected for so long and derailed a full public accounting of GM's bad acts. Among them NHTSA, which on two separate occasions, told GM officials they were concerned about a spate of crashes in which the airbags failed to deploy, yet failed to connect the dots.
Cooper also takes some of his peers to task – GM lawyers who suborned perjury and abetted the cover-up and the lead attorneys in the Multi-District Litigation. The leadership's failure to do the most basic vetting of their chosen bellwether cases, he writes, turned the effort to bring a full measure of justice to the victims into a flaming wreck.
Most of The Safety Record Blog readers likely know this story. It's worth reading anyway. Established product liability attorneys will find in this book a validation of their own experiences fighting well-resourced corporations for complete discovery. For new lawyers, it's a master class on the careful selection of experts and the painstaking attention to the details in putting together a successful automotive defects case. But Cobalt Cover-Up is a good read for anyone. For one, Cooper takes care to define the legal jargon for the lay reader. More importantly, it's a reminder that the civil justice system can be a powerful force for good and that attributing crashes to "driver error" is easy – finding the real problem takes a dedicated and savvy legal advocate.