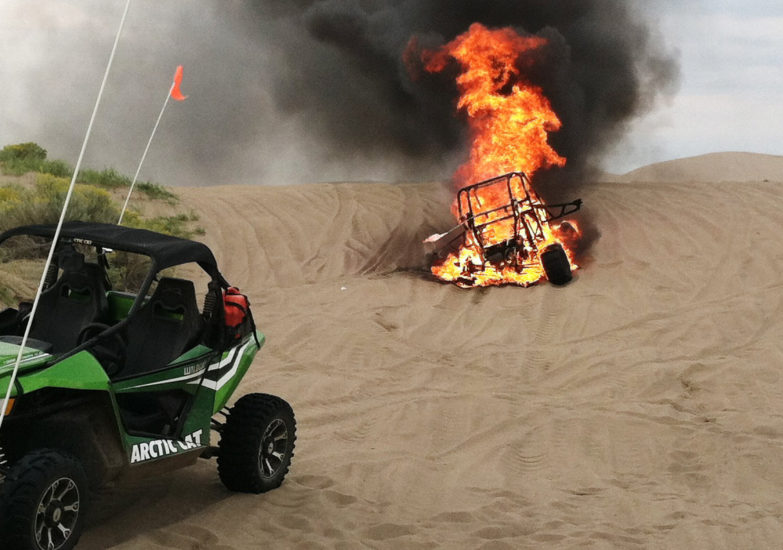 May 19, 2020
Three months after Consumer Federation of America and the Safety Record Blog called out Polaris for sidestepping the recall process and the U.S. Consumer Product Safety Commission for allowing the troubled manufacturer to do so, Polaris recalls have come back into fashion.
In April, the Medina, Minnesota-based manufacturer and the CPSC jointly announced that 80,000 Model Year 2018-2020 Ranger XP 1000 & CREW XP 1000 off-road vehicles were being recalled because "the clutch belt can break and damage the secondary clutch and the fuel line, posing a fire hazard." Another 7,000 Model Year 2019-2020 Ranger XP 1000 & CREW XP 1000 off-road vehicles were being recalled because "the fuel line can be misrouted above the bracket that protects the fuel line from a clutch belt failure, posing a fire hazard to consumers."
As our readers know, Polaris off-road utility vehicles have had persistent design-related fire problems that have resulted in more than a dozen recalls and a record $27 million civil penalty for late reporting on claims to the CPSC related to the fires. Serious injuries and deaths have and continue to occur.
These new recalls are similar, but not identical, to several repair campaigns that Polaris posted last year. In February, the Safety Record Blog noted that Polaris had been foregoing that clunky old recall process, with its fancy-pants CPSC-coordinated notifications, required procedures, and oversight.
Instead, Polaris was issuing Stop Ride/Stop Sale notices for the latter half of 2019.  Four of these not-recalls involved 79,805 MY 2018-2020 model year vehicles for defects that created fire hazards:
2,900 2019 RZR XP Turbo Vehicles for a clutch inlet duct cover used as an "aid during manufacturing" that was not removed before shipping, creating a fire hazard
70,000 2018-2020 Ranger XP 1000 Models and 2019 Pro XD Vehicles for potential to damage to the fuel line in the event a drive belt "breaks or fails during operation."
8 2019 Ranger XP 1000 Models that were assembled with fuel rail mounting fasteners that were improperly torqued.
6,600 2019-2020 Ranger XP 1000 Models built with incorrectly routed fuel lines that could cause a fuel leak if a drive belt breaks or fails during operation.
At the time, the Safety Record Blog asked CPSC spokesman Joe Martyak about the wisdom of allowing a manufacturer with a long history of producing combustible off-road vehicles to take a detour around the normal process and issue Stop Ride/Stop Sale notices instead of reporting the hazard to the Commission, filing a Corrective Action Plan and giving monthly progress reports to the CPSC. But Martyak said that there were many legitimate circumstances under which manufacturers can and do take such actions. Unless the CPSC does its own investigation or otherwise involves itself in the process, a manufacturer can recall a product and offer a repair without involving the agency at all, he said at the time.
There's an overlap between the old Stop Ride/Stop Sales notices and the April recalls involving the 2018-2020 Ranger XP 1000 — same models and model years and same vague language about threats to the fuel line integrity. We guess the CPSC finally took an interest.
"It's critical that consumers who own these vehicles find out about the recall and take the recommended actions. We know some of the remedies haven't worked. Hopefully these will," says Rachel Weintraub, Consumer Federation of America's Legislative Director and General Counsel. "But, as some of the recalls involved a fire hazard, I'm really concerned that the CPSC is missing the forest for the trees. What the agency should be doing is looking at the hazards and the vehicles broadly and figuring out the commonalties and trying to solve them."
Earlier this month, the CFA published an update to their February analysis of off-highway vehicle (OHV) recalls (including the Polaris Stop Sale/Stop Ride notices) over the past decade. (OHVs include all-terrain vehicles (ATVs), recreational off-highway vehicles (ROVs), and utility task vehicles (UTVs).) Polaris was – and continues to be a standout. It issued 43 recalls between January 1, 2010 and April 30, 2020. In 2020 thus far, there have been eight OHV recalls. Polaris has launched five of them – two for fire hazards, two for crash hazards and one involving seat belts.