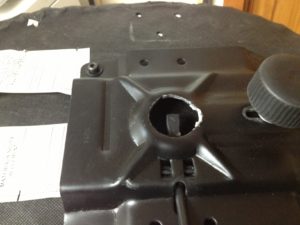 May 22, 2014
After years of subjecting an unsuspecting public to an office chair with "welds" that break, flipping the occupant backwards, Office Depot, the exclusive seller of the sudden ejection machine, is recalling 1.4 million units sold between 2003 and 2012. According to a release issued by the U.S. Consumer Product Safety Commission, the office supply company had received 153 reports of the seat plate weld cracking or breaking, including 25 contusions, abrasions, injuries to the head, neck and a fractured back and hip.
That hip fracture was sustained by Nancy Losey of San Antonio, Texas, who in March 2010, was sitting in a Gibson chair when it suddenly collapsed. The chair was manufactured by the Wonderful Year Furniture Company, imported by Swinton Avenue Trading Company, based in Boca Raton, Fla, and sold by Office Depot.  The seat plate underneath her chair had separated from the chair base, because of a weld failure at that juncture. Ms. Losey fell to the floor and broke her hip, requiring a hip replacement surgery.
 In October 2012, San Antonio attorney Paula Wyatt, who represented Losey in a product liability case against Swinton Avenue Trading, set this resolution into slow motion, by writing to the U.S. Consumer Product Safety Commission alerting them to Losey's injuries, and the amazing similarities between the Gibson and the Biella Office Chair, which bore the same product registration number and same bad weld in same critical place, but had already been recalled in April 2012. At the time, the Biella only had 11 complaints, compared to 18 between 2009 and 2010, for the Gibson. But, there were fewer Biella's out there – 307,000 units. Under that recall, the remedy was a $55 store card – the price of the chair.
 The CPSC opened an investigation, but there was no immediate action. And today there was no immediate response to our question: Why in the heck did this take so long? CPSC spokesman Scott Wolfson did say:
"CPSC produced a humorous video a few years ago to promote the use of SaferProducts.gov and it involved a man falling off of an office chair.  The video was based on actual incidents and today's recall of a related hazard with office chairs is another example of the importance of reporting safety incidents via SaferProducts.gov."
The Safety Record Blog gave Wyatt an assist by writing about this evil piece of furniture (see Office Depot Declines to Launch Recall for a Chair that Launches Occupants Backwards and CPSC Investigates the Chair Office Depot Tried to Forget), and highlighting the frustrations of one Jesse Clackum, who blogged about her fruitless attempts to make the Swinton Avenue Trading Company take responsibility for the collapsing chair. In late 2006, Clackum, based in Florida, was one of the Gibson Leather Office Chair's hapless victims. Her version of a Swinton Avenue Trading Company office chair, retailing at $119.00, was only 14-months old when it collapsed after the weld at the base of the chair failed. Clackum immediately contacted Office Depot looking for restitution, but the office supply retail giant blew her off, and told her that she should have bought the extended warranty.  Clackum tracked down the manufacturer – the Swinton Avenue Trading Company, an entity which turned out to be unreachable – no phone number, just a PO address.
Her blog, Release the Clackum! (http://releasetheclackum.blogspot.com/2006/12/fall-of-customer-service.html) attracted plenty of other hapless victims – more than 234 – who responded to that blog post for eight years, with comments like this:
"I'm thrilled to find and join the fraternity of Swindle, er, Swinton Chair owners who end up on the floor after their chair breaks and falls apart." 
"Wow, they are finally doing it," Clackum said, even though the model she bought has never been recalled. "It only took eight years. It's nice to be part of something that makes a difference. It elicited such a response. I've never had 234 comments on one blog – who would have thought that this post would get that reaction?  I was floored."
Even an Office Depot Senior an Office Depot manager, threw in his two cents in 2009:
"At Office Depot Taking Care of Business is the unwavering commitment that we make to our customers, providing unprecedented value, selection, quality and service," Casey Albuhm  wrote.
Riiiiight.  That's why it took Office Depot years to recall this dangerous piece of junk. Just last week, another sufferer contacted The Safety Record Blog about his unsuccessful sitting experience with a Gibson Leather Office Chair. Michael Turri works part-time at the Visitors' Center for Angel Fir, a ski and summer resort village in northern New Mexico. Turri's chair snapped at the bad weld, and he was able to grab something before it could pitch him backwards.  Like others, he Googled the name of the company and that it doesn't really exist.
"Hopefully, this recall will come in time to help others before anyone else gets hurt," Turri said. "It gives you little warning."