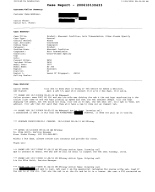 Safety Research & Strategies has obtained internal Toyota documents that illustrate Toyota has successfully duplicated unintended acceleration incidents related to electronic failures.
Rhonda Smith's incident involving a 2007 ES 350 occurred on Oct. 12, 2006, and shortly thereafter, Toyota brought in a Field Technical Specialist to inspect the vehicle. According to Toyota's internal documents:
*** NOTES 11/15/2006 07:46:06 AM PPatel Dlr notes" FTS INSPECTED VEHICLE AND WAS ABLE TO DUPLICATE CONDITION. FTS SPOKE TO CUSTOMER, AND CUSTOMER DOES NOT WANT VEHICLE BACK, CONCERNED ABOUT SAFETY. FTS FORWARDED INFORMATION TO LEGAL DEPT. AND CUSTOMER IS WAITING TO HEAR FROM LEGAL DEPT. CUSTOMER IS CURRENTLY DRIVING DEALER LOANER CAR
Click on the thumbnail below to see the case report containing the above notes.
A Toyota Dealership Production Report summarizes another claim involving cruise control-related unintended acceleration in a 2008 Toyota Tundra. The condition is described in the report this way:
"Customer stated that while using the cruise control the vehicle would continue to accelerate. This would typically occur after cruise was set, applied brakes, and reset speed using resume feature. Problem was duplicated"
Diagnostic steps involved the following:
"Test drove vehicle and performed steps according to customers description. When attempting to reset speed using resume, scan tool data showed that resume signal was on continuously. It did not happen every time and speed was not a factor."
The failure was attributed to a "circuit malfunction in cruise control main switch.
Click on the thumbnail below to see the full report.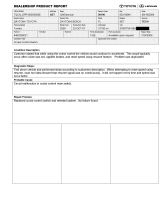 In the Amended Consolidated Complaint filed October 27, 2010, plaintiffs described numerous additional incidents in which electronic failures were duplicated by Toyota, citing internal documents produced by Toyota as the source. Click on the thumbnail below to view the excerpt from the Complaint describing those incidents.
According to internal Toyota documents referenced in the Amended Master Economic Loss Consolidated Complaint filed October 27, 2010 in the IN RE: TOYOTA MOTOR CORP.UNINTENDED ACCELERATION MARKETING, SALES PRACTICES, AND PRODUCTS LIABILITY LITIGATION in the United States District Court, Central District of California, Southern Division, before Judge James Selna, Toyota was able to replicate numerous consumers' complaints alleging sudden unwanted acceleration that may have involved malfunctions in the vehicle electronics and/or engine management systems.
Click on the thumbnail below to see the relevant pages from the complaint detailing the incidents.