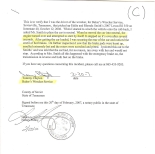 January 24, 2011
Safety Research & Strategies' continuing investigation into Toyota SUA is building momentum as new defect issues emerge from murky, unregulated vehicle electronics.
We have also found a document that suggests that Toyota lied to the driver in one of this issue's most hotly debated incidents.
We'll start with the document. You may recall Rhonda and Eddie Smith, the Tennessee couple whose testimony before the U.S. House of Representatives' Commerce Committee last February transfixed the room. Rhonda, a retired social worker, recounted her harrowing ride in a run away Lexus ES350 over the hive-like buzz of clicking photographers. Wiping away the tears, Smith talked about trying every strategy she could to wrest control of her vehicle as it raced to 100 mph. Rhonda managed the Lexus to the side of the road, once the vehicle speed dropped to 33 mph.
[flashvideo file=video/rstestimony.flv image="video/rstestimonypreview.jpg" /]
Rhonda had noted two clues to the electronic nature of the misbehavior – the cruise control light came on as the vehicle began accelerating, and, while at rest, the Lexus tried to start itself with no occupant inside. The wrecker driver later gave a notarized witness statement attesting to the vehicle's attempt to turn over the engine by itself. Click on the thumbnail below to see the wrecker driver's statement.
But, in April 2007, when NHTSA's Office of Defects Investigation traveled to Tennessee for an inspection of her Lexus, ODI focused on the state of her brakes and her floor mats. After the Smiths shared their story publicly, auto bloggers, like Edward Neidermeyer of the dubiously-named The Truth About Cars, cast more doubt:
"One of the most important lessons to come out of the last two days of congressional hearings on the Toyota recalls is that blaming individuals for unintended acceleration is too tough a task for our elected representatives. And yet the more we learn, the more necessary it seems to take human error into account when dealing with unintended acceleration. Nothing illustrates this quite like the case of the very first witness to give testimony before congress. Rhonda Smith of Sevierville, Tn told the House Energy Committee, under oath, that her Lexus ES350 became "possessed" and that its brakes and transmission failed to respond at precisely the moment that the car accelerated out of control. "Shame on you, Toyota, for being so greedy," she said, wiping tears from her eyes. But it turns out that the shame belongs almost entirely with Ms Smith."
Actually, the shame's back on Toyota.  Here are some facts (and documents to back them up).
Smith's incident occurred on Oct. 12, 2006, and shortly thereafter, Toyota brought in a Field Technical Specialist to inspect the vehicle. According to Toyota's internal documents:
*** NOTES 11/15/2006 07:46:06 AM PPatel Dlr notes" FTS INSPECTED VEHICLE AND WAS ABLE TO DUPLICATE CONDITION. FTS SPOKE TO CUSTOMER, AND CUSTOMER DOES NOT WANT VEHICLE BACK, CONCERNED ABOUT SAFETY. FTS FORWARDED INFORMATION TO LEGAL DEPT. AND CUSTOMER IS WAITING TO HEAR FROM LEGAL DEPT. CUSTOMER IS CURRENTLY DRIVING DEALER LOANER CAR
Click on the thumbnail below to see the case report containing the above notes.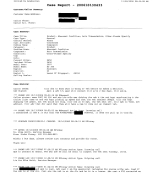 We sent Toyota's internal notes to Rhonda, for her records.
"My first reaction was elation. I feel like this vindicates what I said, because so many people had not believed me," she said. "I know Toyota lied to me, but now I have it in black and white, and it may help other people who are trying to get their issue resolved."
The Smiths say that the customer service representative, Ms. Patel, had conveyed this information to them in a phone call. They were so stunned they asked her to repeat it. But they never mentioned it to Congress, because on December 4, 2006, the automaker sent the Smiths a letter that said something different:
"You have requested the findings of our investigation. Your vehicle was inspected by one of our Field Technical Specialists ("FTS") on October 24, 2006. Our FTS was unable to duplicate the unintended acceleration that you reported."
Click on the thumbnail below to see the full letter.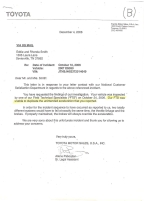 Three months later, the Smiths lost an arbitration to have Toyota buyback the ES350, based, in part, on Toyota's claim that the vehicle had not malfunctioned:
"The Manufacturer's position was that the Manufacturer Response Form stated that the vehicle was inspected by Field Technical Specialist Leonard St. Arnand, and found to be operating as designed."
Click on the thumbnail below to see the full arbitration decision.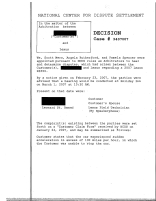 On April 11, 2007, ODI's Scott Yon travelled to Tennessee to inspect the Smiths' Lexus. He noted at that time that Rhonda's vehicle had an unsecured all-weather floor mat on top of her carpeted mat, which was how the dealership sold the vehicle to them, the Smiths said. ODI did a test drive and an examination of the brakes, but did not perform any electronic evaluations or testing. Rhonda's incident was folded into Preliminary Evaluation 07-016 and later Engineering Analysis 07-010 as a floor mat-induced event. Under hectoring from Congress, NHTSA eventually bought the Smiths' Lexus for an exorbitant amount of money – years after the event, a change in ownership and numerous service interventions. NHTSA has not released any information about the Smith Lexus since.
Click on the thumbnail below to see NHTSA's full Vehicle and Incident Site Inspection report.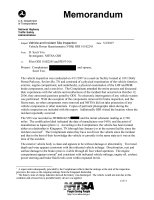 To recap:
The driver and other witnesses describe a vehicle with multiple electronic malfunctions.

A field technical specialist duplicates her event

Toyota tells the customer the opposite and fights to skirt any responsibility.

NHTSA uses the event to bolster its floor mat interference theory with scant evidence.

Public ridicules driver that tries to raise awareness about a safety hazard.
What's wrong with this picture? The agency's inference that floor mats were to blame is now belied by testimony of the driver and Toyota's internal documentation, which acknowledges duplicating her event, long before ODI got involved. Never once does Toyota ascribe her incident to floor mat interference. Surely, if Toyota could have blamed the floor mats, it would have.
On to the subject of Toyota's designs.
We must remind you that our position has always been: This is a complex, multi-root cause problem. There are the runaway at high speed complaints and inconsistent throttle output complaints; i.e., my vehicle suddenly lurched forward or backward.  Some of these incidents can clearly be attributed to floor mat interference and driver error; however, many complaints don't drop neatly into either category, based on witness accounts and other physical evidence.
Examinations of the complaint data consistently show statistically significant increases in SUA complaints in Toyota models when they were fitted with its Electronic Throttle Control system (See Toyota Sudden Unintended Acceleration: We've Got the Numbers).  And the nature of complaints that fall outside of mechanical interference and driver error strongly suggest electronic control system issues are at the root of many unintended acceleration events.
Detailed evaluations of various Toyota models with ETC have revealed some fascinating – and troubling – design issues that demonstrate huge weaknesses in the Toyota fault detection and fail-safes that are intended to catch and prevent unintended consequences.
For example, several intermittent and progressive mechanical throttle body problems lead to the engine racing without driver input and unpredictable accelerator pedal response.  These conditions are often not detected by the vehicle Engine Control Module (ECM) and no error codes are set.  The outcome is sudden high engine RPMs without driver input to the accelerator pedal or a pedal that responds with much greater acceleration than what the driver input requested (i.e, a driver depresses the pedal approximately 10 percent and the response is 35 percent causing the vehicle to lurch forward unexpectedly).
These conditions illuminate the holes in Toyota's primary diagnostics and, more concerning, the lack of engine torque safety features (used by most other manufacturers) to catch problems that fall through the first safety net.
This adds to the already troubling known failure of the ECM to detect loss of accelerator pedal sensor redundancy (See Toyota Electronic Throttle Control Investigation: Preliminary Report )
In the larger context, what appears to be occurring is the confluence of issues that creates a vehicle that is more prone to inconsistent and unexpected behaviors.  These findings point to a warmed-over engine control system that doesn't manage torque very well with ETC merely tacked on.
Toyota SUA has evolved into a high-stakes problem. And it's not just about the money lost in auto sales or won in litigation settlements. The real importance in cracking this nut is learning what makes a robust design that relies on electronics instead of mechanics to perform safety critical functions.  The implications of this will set the stage for future regulations and defect examinations for years, and NHTSA's relevance in this arena depends on it.